Workers Comp. Chiropractor 
Find a Worker's Compensation Chiropractor in North Wales PA
*Work Injury Chiropractor / North Wales/ Lansdale PA* 
"Chiropractic care and Work- Related Injuries"
*Serving Lansdale, Blue Bell, and the North Wales PA area for Worker's Compensation Injuries for over 20 years*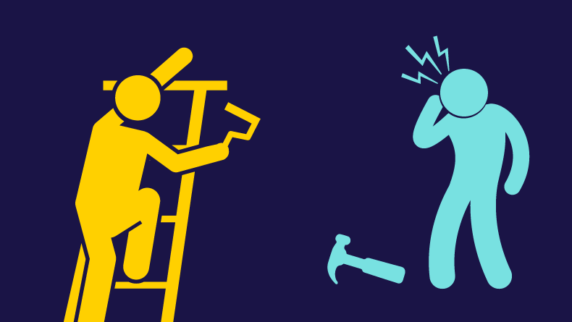 Work Related Injuries in Montgomery County PA
How can chiropractic care help your work-related injury? 
Were you injured at work? Who offers the best chiropractic care for work injuries? Any kind of repetitive task at work can result in musculoskeletal tension, dysfunction, and pain. Whether it is lifting a heavy box, slipping on the floor, or a repetitive task such as typing, work injuries can progress and worsen without proper treatment. This lack of treatment can lead to irreversible permanent damage. This is why it is very important to have a qualified Doctor of Chiropractic evaluate your work-related injuries.
If you were hurt at work, always report the injury and what happened to your boss. After you fill out the worker's compensation paperwork, call our office to make an appointment for a chiropractic work injury evaluation. Dr. Allen Conrad has been helping patients in Montgomery and Bucks County PA with work related injuries, and has advanced training in the diagnosis and treatment of these types of injuries. He will perform a detailed history with you about the accident, then an examination to determine the extent of your injuries and decide which type of chiropractic treatment plan is appropriate for your condition.
How does Chiropractic care help a work injury? 
Chiropractic care involves finding any damage to the musculoskeletal system, as well as finding any spinal misalignments which can lead to nervous system imbalances. Chiropractors not only the best to treat soft tissue injuries such as sprains, strains and tendonitis, but also other conditions such as sciatica, pinched nerves, herniated discs, headaches, and many other injuries to the body. Chiropractors also help people with shoulder, hip, wrist and knee injuries, as every part of the body can benefit from chiropractic care and therapeutic exercise. By helping improve range of motion and reduce pain and spasm, chiropractic treatment for work related injuries will help the body improve its peak performance, and get you back on the path towards your pre-injury health so you can feel your best again.
Do I need to go to my family doctor first before going to see a chiropractor for a work-related injury? 
You have the choice to treat with whatever doctor you choose for a work-related injury. Many family physicians tend to have their focus of practice on illness and other related family practice conditions, where as our office has worked with work comp. related patients for treatment on a regular basis for over 20 years. We recommend making an appointment with Dr. Allen Conrad as soon as the work injury occurs, so that he can inform you about your options, and determine what the next step of care would be for your work-related injury. We want to get you back to work as quickly and safely as possible, and that is why our office is considered the best worker's compensation chiropractor in Montgomery County PA.
What type of treatments do you recommend for Worker's Compensation Injuries? 
After the chiropractic history and examination, Dr. Conrad will review your treatment options. Each case is specific, but many spine related injuries will include gentle chiropractic adjustments, electrical muscle stimulation, mechanical traction, therapeutic ultrasound, therapeutic exercise, therapeutic stretching, massage therapy, and self-home management exercises. Different levels of severity may affect the type of work injury treatment you receive, so after the examination the Doctor of Chiropractic will review these options, and determine which type of treatment is appropriate for you.
Can the Doctor of Chiropractic order Diagnostic Testing? 
Yes, Dr. Conrad can order diagnostic testing for your work-related injuries. If you have already had some diagnostic testing done like MRI or X-Rays, Dr. Conrad will review the results with you so that you understand your injury and the options of treatment for that condition. We believe that reviewing the diagnostic results with the patient helps the patient become more aware of their injury, and also answer any questions that they may have about what to expect and what to avoid to make sure they don't reinjure themselves.
Worker's Compensation Insurances that we accept: 
*Liberty Mutual Insurance
*Mutual Benefit Group Insurance
*MAC Risk Management Insurance
*Travelers Insurance
*Sentry Insurance
*Gallagher Bassett Insurance
*SWIF Insurance
*Sedgwick Insurance
*Selective Insurance
*Cincinnati Insurance
*Broadspire Insurance
*Eastern Alliance Insurance
*CNA Insurance
*Donegal Insurance
If you have another type of worker's compensation Insurance that is not listed here, give us a call and we can check the coverage. Since anyone injured at work in Pennsylvania is eligible for treatment as an injured employee, I'm sure we can help you as well. Our phone number is (215) 628-2529.